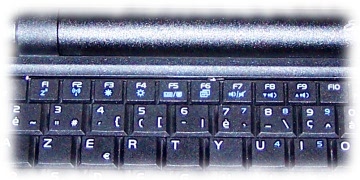 Presentation
A regular Linux distribution lacks full support of the Fn-Keys of the EEE-PC. I did this piece of software to correct this and add support to:
Sound keys (Fn-F6 to F8);
Internal/external display switching (Fn-F5);
Display battery/AC adapter events.
It was succefully tested on EEE-PC 4G with Mandriva 2009 LXDE but it should work with other distribution.
Install
To install it, unpack every thing.
# tar xvfz eee_acpi-1.1.tgz
Copy executable to /usr/local/bin
# cp eee_acpi-1.0/eee_acpi /usr/local/bin
Create $HOME/.config/autostart/eee_acpi.desktop
[Desktop Entry]
Name=eee_acpi
Comment=EEE ACPI user events handling
Exec=eee_acpi
Terminal=false
StartupNotify=false
Restart X11.
How it works
eee_acpi connects to the /var/run/acpid.socket socket and monitor it for incoming events. It trigger a specific processing for these events:
hotkey ATKD 00000013 : MUTE
hotkey ATKD 00000014 : VOLUME DOWN
hotkey ATKD 00000015 : VOLUME UP
hotkey ATKD 00000050 : AC ADAPTER ON
hotkey ATKD 00000051 : AC ADAPTER OFF
hotkey ATKD 00000030 : DISPLAY SWITCHING
battery BAT0 00000080 : BATTERY
Sound control is done through amixer with commands like:
amixer -c 0 set Master 6+
Display switching is done through xrandr with commands like:
xrandr --output VGA --off --output LVDS --auto
Notification is done through notify-send commands:
notify-send -i sound_section -t 500 "Sound control" "Mute"