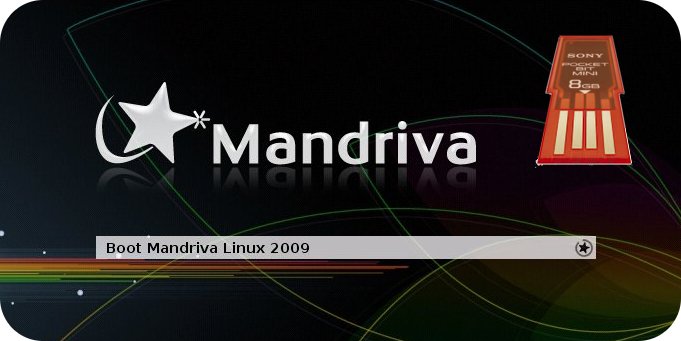 This is a very short howto turn a mandriva one (KDE or GNOME) into a bootable USB device.
New: See this article for enabling persistence.
How to prepare the USB key to receive mandriva one
USB key are often initialised with a strange partition table. This must be corrected to install mandriva one and be ab le to boot.
With Linux
Use the fdisk partitionning tool to remove former partitions, create a new one and make it bootable.
First identify the device of the USB key with cat /proc/partitions. Let say it's /dev/sdc.
major minor  #blocks  name

   8     0    3907512 sda
   8     1    3903763 sda1
   7     0     990320 loop0
   8    32    4029952 sdc
   8    33    4024251 sdc1
Launch fdisk this way :
fdisk /dev/sdc
Use the d commande to delete former partition until there are no more partition left. Be aware that it will erase data on your USB Key!
Use the n commande to create a new partition (example are in french but you should have similar results in english, I don't have an english configuration but feel free to send me your results):
Commande (m pour l'aide): n
Action de commande
   e   étendue
   p   partition primaire (1-4)
p
Numéro de partition (1-4): 1
Premier cylindre (1-501, par défaut 1): (just type return)
Utilisation de la valeur par défaut 1
Dernier cylindre ou +taille or +tailleM ou +tailleK (1-501, par défaut 501): (just type return)
Utilisation de la valeur par défaut 501
Use the a command to toggle the bootable flag.
Commande (m pour l'aide): a
Numéro de partition (1-4): 1
Use the t command to change partition type to W95 FAT32:
Commande (m pour l'aide): t
Partition sélectionnée 1
Code Hex (taper L pour lister les codes): b
Type de partition système modifié de 1 à b (W95 FAT32)
Finally use the p commande to display current partition table state:
Commande (m pour l'aide): p

Disque /dev/sdc: 4126 Mo, 4126670848 octets
255 heads, 63 sectors/track, 501 cylinders
Units = cylindres of 16065 * 512 = 8225280 bytes
Disk identifier: 0xf27e10b5
Périphérique Amorce    Début         Fin      Blocs    Id  Système
/dev/sdc1   *           1         501     4024251   b  W95 FAT32
Quit fdisk with the w commande.
I never needed this step but you can give it a try (syslinux must be installed) :
#

 dd if=/usr/lib/syslinux/mbr.bin of=/dev/sdc
Format the key with the following commande:
mkdosfs /dev/sdc1 -n MANDRIVAONE
Key is ready.
With Windows
Use this tool and set label to MANDRIVAONE (upper case).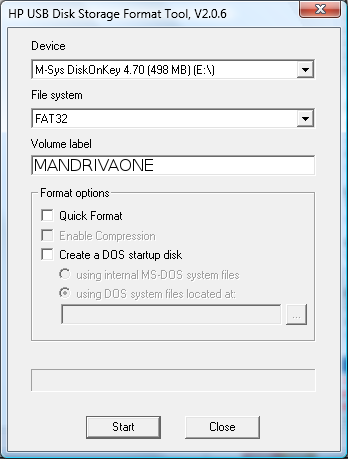 Installation
If you didn't followed the previous steps, set the label to MANDRIVAONE (all upper case).
Download the corresponding kit below and uncompress it at the root of the USB device. This file contains a initrd.usb, syslinux.cfg and /boot/vmlinuz file.
Note : Since version 2009, mandriva one car really be used to install the final system. It removes unused internationalisations and drivers.
Download the mandriva one 2009 iso and copy file /CDROM/loopbacks/distrib-lzma.sqfs to /USB/loopbacks/distrib-lzma.sqfs. (You can mount the iso image without burning a CD with : mount file.iso /mnt -o loop. Use 7-Zip for windows).
Use syslinux to turn the USB device into a bootable linux system :
Windows> syslinux -mf X:
Linux> syslinux -f /dev/sdc1
Where X is the USB letter for windows or the partition device for linux.
If you are satisfied with Mandriva 2009, you can try this tutorial to install Mandriva 2009 LXDE from USB Key.
It seems that syslinux V3.72 doesn't work. If you face problem booting you may want to try with an older one.
Troubleshoot
If it doesn't work, please reports:
You used linux or windows install ?
Your hardware both computer and usb key.
Language used on your computer.
Description of the boot sequence from turn on computer, hit key XXX to have boot menu, to error message
Most of the time it's due to bad key preparation or bad typing when labeling the usb key.
What's next
You may wan't to try this step by step tutorial on how to install Mandriva 2009 Free with the LXDE (Lightweight X11 Desktop Environnement) from a USB Key for. The guide is full of snapshot to ease the installation process.
If you have a SSD NetBook (EEE-PC 4G for instance), you may wan't to compress /usr in order to save more than 1GB.
You may wan't to install mandriva on a USB key.